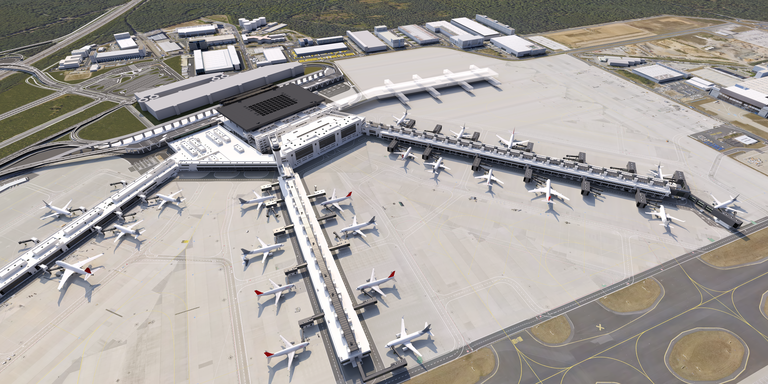 Many Parts Combine to Form a Whole
Piers H and J of Terminal 3 in the south of Frankfurt Airport will therefore boast a total of 24 new adjacent docking positions, four of them able to accommodate extra-large aircraft. Passengers will also enjoy maximum comfort and convenience in the new piers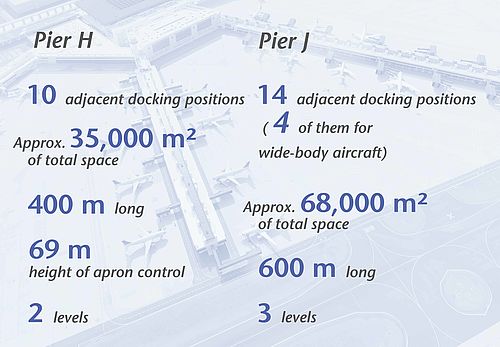 with total floor space of around 103,000 square meters.
The piers will have different lengths, with the shorter one (Pier H) extending 400 meters and its larger mate (Pier J) stretching 600 meters. Moving walkways will let travelers quickly navigate the considerable distances involved.
Like road traffic, all vehicles using the apron must observe a set of rules―and that naturally includes aircraft. The apron tower at Pier H is therefore 69 meters tall to provide a good view of the area around Terminal 3.

The apron control tower, with a height of 69 meters, provides an overview of the southern portion of the airport apron. The controllers require a good vantage point for monitoring all of the planes on the ground and make sure that they taxi around and move in and out of parking positions in a safe and orderly manner.
From Terminal 3 to the World
Besides having different lengths, the two piers will also vary in height. Pier H comprises two levels, while its bigger mate Pier J features an extra story for travelers arriving from and heading to destinations outside the Schengen zone. It therefore has its own, separate lane for arriving passengers. This will prevent Schengen and non-Schengen travelers from mingling, like in the two-car people mover system.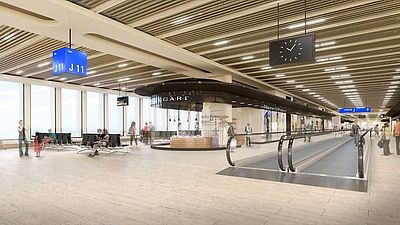 The clear structure and architecture of the piers help travelers find their way and ensure that they have a pleasant journey. Source: Fraport AG / © Christoph Mäckler Architekten
A modern interior architecture with a consistent structure will make it easy for passengers to find their way. Gates with their waiting lounges are located along the sides, with shops and restaurants lining a central passageway equipped with a chain of moving walkways extending all the way to the end of each pier. Like in the main terminal building, the design―with an attractive mix of natural stone, steel and concrete surfaces―evokes a timeless, high-quality ambiance. Passengers landing or taking off at Frankfurt Airport, if they look closely, will also be able to spot another special architectural highlight of the two piers: expansive flat roofs planted with vegetation.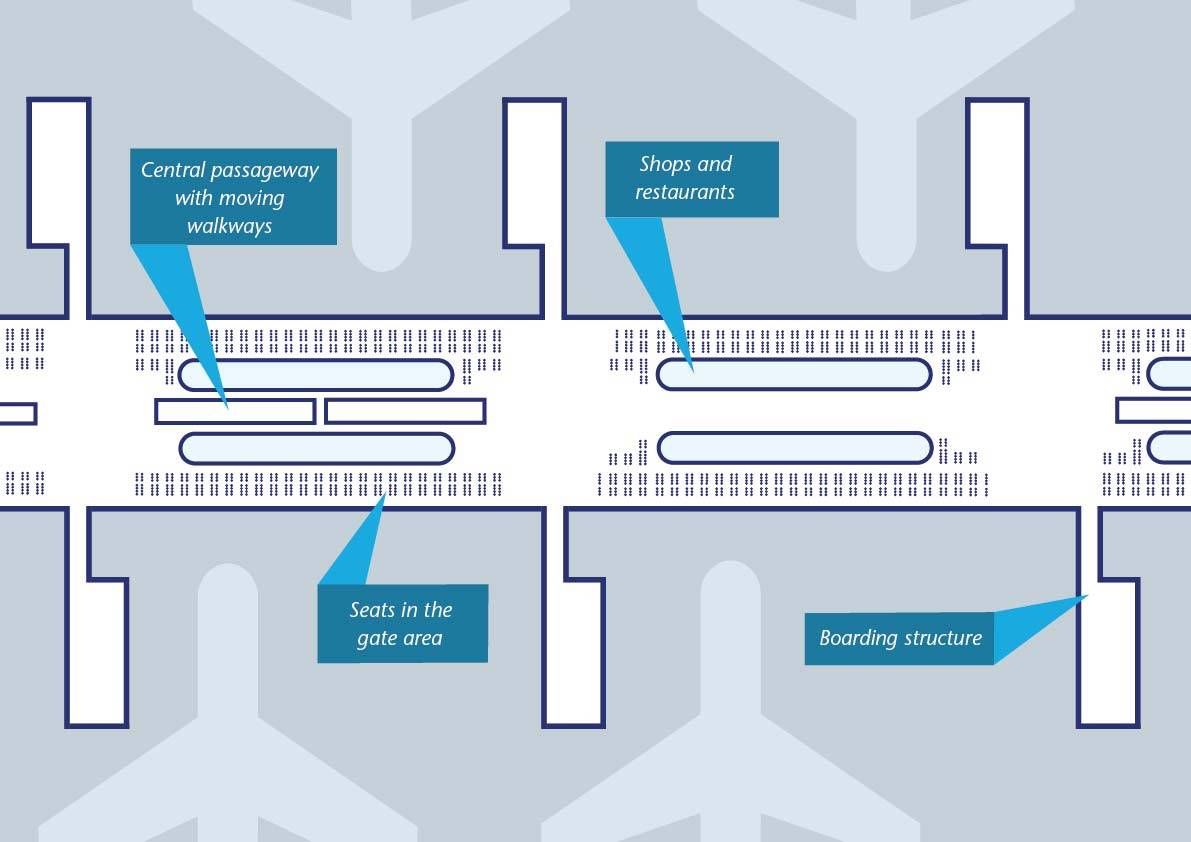 Walls Growing at the Construction Site
When the building permit for Pier H was issued in November 2018, it marked the official start of construction for Terminal 3. Work has already begun on the structures that will join the two piers to the main building. Construction of the pier itself, together with the integrated apron control tower, begins in January 2019. The shell of Pier J will also start taking shape during the first half of 2019, and the plans call for it to be completed within 24 months. The exterior walls and building systems will be concurrently installed.
"The decision to grant the construction permit for Pier H was the starting gun for building the shell of Terminal 3. From January 2019 on, following large-scale underground engineering work, it will gradually grow skyward." Dr. Stefan Schulte, Executive Board Chairman of Fraport AG.
Connecting Piers
The work to build the pier shells is special in at least one respect: unlike the approach taken for ordinary buildings, they are not erected in one go. Instead, first a number of smaller structures are built alongside one another. These all look pretty much the same―in the case of Pier H, they might be described as "identical septuplets". These seven buildings will later be joined to create a single seamless structure with a length 400 meters. Although this approach is more complex in the initial stages,it enables a number of structural simplifications during the subsequent finishing work and later use of the pier. This is because, among other things, there is no need to include expansion joints to allow the materials to swell and shrink in response to changing temperatures. The building systems can therefore all be installed at the same time.
24 new docking positions are being built on both piers, four of them able to accommodate extra-large aircrafts. Source: Fraport AG / © Christoph Mäckler Architekten
Pier J is even larger, comprising eight substructures. Work will proceed concurrently on all of them, which naturally calls for close coordination. They will initially be spaced a meter apart, and then joined after the concrete has cured.
A total of 24 boarding structures will then be added along the sides of the long piers. Jet bridges will make it easy for passengers to get in and out of docked aircraft.
Existing remote aircraft parking positions in the immediate vicinity of the construction site continue to be used while the piers are being built. Absolute precision is a must to ensure safety, since heavy equipment is being used just a few meters from parked aircraft!
From the Outside In
Work to install the building systems will begin as soon as the shells of the piers are finished. They include state-of-the-art heating, ventilation and air conditioning (HVAC) as well as plumbing and safety equipment. Special features like circadian lighting control, which emulates the progression of natural daylight to help mitigate the symptoms of jetlag, will also be installed. After their completion in 2023, passengers will then enjoy a new feel-good ambiance in Piers H and J when departing from Frankfurt Airport's new Terminal 3.