From Terminal to Terminal
In Eight Minutes to Terminal 3
Machines and construction workers are busily digging and building in the south of Frankfurt Airport to create the new terminal, which is scheduled to open in 2023. But how will passengers get from there to Terminals 1 and 2 and back? After all, two runways separate it from the rest of the airport. Wolfgang Holzhausen and other planners have been racking their brains for years to solve this puzzle. "I started developing ideas for the infrastructure at the airport back when I was still an engineering student at Darmstadt Technical University, and since going to work for Fraport I've been fleshing out a solution that I originally presented in a term paper," says the transportation expert.
Wolfgang Holzhausen explains in the video where the new passenger transport system is being built. Now he is responsible for planning and implementing a new people mover system that will let passengers transfer smoothly and quickly between Terminal 3 and the two existing terminals as well as the regional and long-distance train stations.
Several Years of Planning Work to Ensure a Safe, Reliable System
When Terminal 2 was inaugurated back in 1994, its planners faced a similar challenge. To master it, they
The new people mover will optimally link the new terminal to the existing airport facilities. developed a completely autonomous, driverless transportation system called the Sky Line that ever since has been shuttling passengers between Terminals 1 and 2 without a break. And it continues to do its job reliably today. Initially the possibility of extending the Sky Line route all the way to Terminal 3 in the south of the airport was considered. Unfortunately, however, it is designed primarily for transit passengers,
The people mover station at Terminal 3. Source: Fraport AG / © Christoph Mäckler Architekten and the trains are limited to two cars each. It therefore wouldn't be possible for other travelers to ride it to Terminal 3 without creating bottlenecks.
Instead, Holzhausen and his team have designed a parallel transportation system with separate tracks. Passengers arriving by rail can conveniently board it at a new station behind Terminal 1. Until the expansion of station C is realized, it will be possible to change between the "old" and "new" people movers at the Terminal 2 station, which was conveniently prepared to permit the addition of two more tracks when constructing the Sky Line back in 1994. Travelers coming from or heading to Terminal 2 can also use it to get on and off. After a brief stop there, the new PTS will travel from Terminal 2 alongside the A5 motorway straight to Terminal 3.

The Sky Line has been running between Terminals 1 and 2 since 1994, when it became Germany's first driverless transportation system.
Laying of the first section of track in 1992.
The Sky Line station at Terminal 1 just before the system began operating in 1994.
A Sky Line car of the first generation being pushed onto the track.
A control center monitors the autonomous Sky Line system after its inauguration.
The Sky Line has been connecting Terminals 1 and 2 around the clock, 365 days a year for more than 20 years.
Direct Paths and Smooth Processes
The new people mover will thus supplement the existing Sky Line. Like the older system, it will be driverless and operate on two tracks. It will take about eight minutes for travelers to get from the long-distance or regional train station to Terminal 3 – any day of the year. Trains will run at two-minute intervals to make sure that passengers can catch connecting flights with transfer times as short as 45 minutes. Everything is also planned so that the two systems will mesh smoothly. This includes timing the trains so passengers can easily switch between them in the enlarged Terminal 2 station and the expanded station C.
While traveling the 5.6 kilometers between the south and north of the airport, the new trains will accelerate to speeds up to 80 km/h. On the way from the new station behind Terminal 1, which serves the long-distance and regional train stations, past Terminal 2 and then southward adjacent to the motorway, the new people mover trains will descend to ground level along the motorway and then rise back up to stop at the Terminal 3 station.
Over
0000
passengers per hour
Driverless Operation
Unlike driverless cars on roads, in which someone can still take the controls when necessary, people mover trains completely dispense with a human operator. This works safely because they run on a dedicated track and are bound to the rails by derailment-proof mechanical tracking systems, plus there are partitions at the station platforms to prevent waiting passengers from straying or falling onto the rollways.
Driverless systems like this enable a high level of operational stability. It would be impossible for the trains to run at such short intervals or stop so precisely with manual operation.
State of the Art
Like most driverless people movers, the cutting-edge new trains will be bidirectional. The new people mover will be able to carry two different passenger groups. All outbound passengers and Schengen transfer passengers will be able to use one or two publicly accessible cars, while non-Schengen transit passengers ride separately. Up to 4,000 travelers an hour can be carried between Terminals 1, 2 and 3.
From Planning to Construction
First Milestone: Selection of the System Supplier
In March 2018, a major step was taken toward implementing the vision that had already been worked out on paper: a decision on who would supply the new people mover system.
"Contracting the new people mover system is a key strategic milestone in efficiently linking our future Terminal 3 with the existing Terminals 1 and 2 and the airport's public transportation network, including the long-distance and regional train stations," stated Dr. Stefan Schulte, Chairman of the Executive Board of Fraport AG, the company that operates Frankfurt Airport.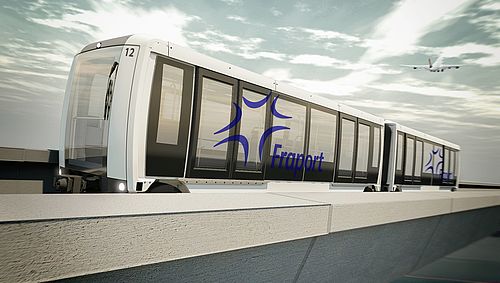 Large plate glass windows will provide passengers riding the new people mover with a sensational view of the airport. The system will be provided by a consortium consisting of Siemens, the Max Bögl Group and Keolis, who possess many years of experience with automated driverless transit systems. The new system will be launched with 12 two-part vehicles that will circulate between Terminal 3 and the north of the airport. The consortium will provide the vehicles along with the control system and power supply, in addition to building part of the tracks and providing all of the required equipment and installations for them.
Travelers will be able to conveniently use the people mover to get from the new station at Terminal 1 all the way to Terminal 3. Various planning and implementation phases will now follow. Construction work is due to begin in mid-2018. First new tracks must be built between Terminals 1 and 2 without disrupting airport operations, which is no easy task since they must run between existing buildings and other trafficked areas.
The tracks will then be extended to Terminal 3 and new stations will be built there and at Terminal 1. In addition, the existing station at Terminal 2 will be enlarged and a new maintenance building constructed. The new people mover will be ready in time for all travelers to use when Terminal 3 is completed in 2023, thus also ensuring a "gute Reise" within Germany's largest airport.