Building the Future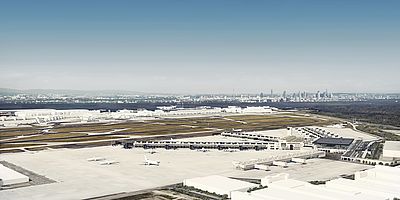 Terminal 3 is being built to the south of Frankfurt Airport. Source: Fraport AG / © Christoph Mäckler Architekten Some people who have lived here for half a century claim that they have never passed a single day without seeing a construction site or crane. And it isn't only the city that is in flux; its "gate to the world" – the airport – has also reinvented itself multiple times over the decades. And it is now happening again, since the construction of the new Terminal 3 began in the south of Frankfurt Airport in the fall of 2015. The plans for it were actually forged quite a bit further back in time, though. Fraport, the company that operates the airport, initiated talks with the city of Frankfurt about a possible expansion in the late 1990s. And just in time, as is now clear: Further growth potential is limited with the existing Terminal 1, inaugurated in 1972, and Terminal 2, which began operating in 1994 - almost 70 million passengers already traveled through Frankfurt Airport in 2018.
The solution? The new Terminal 3 which is planned to be built in a modular manner. When fully constructed, up to 25 million people will be able to fly to and from Terminal 3. The three construction phases of the terminal allow for flexible construction – depending on capacity requirements. In the first construction phase, the main building with arrival and departure levels, the marketplace, lounges and a baggage handling system as well as Piers H and J will be built by 2023. In order to relieve the load on Terminals 1 and 2 earlier, the second construction phase, consisting of Pier G, will be completed ahead of schedule. This is expected to offer extra capacities for four to five million passengers as early as 2021.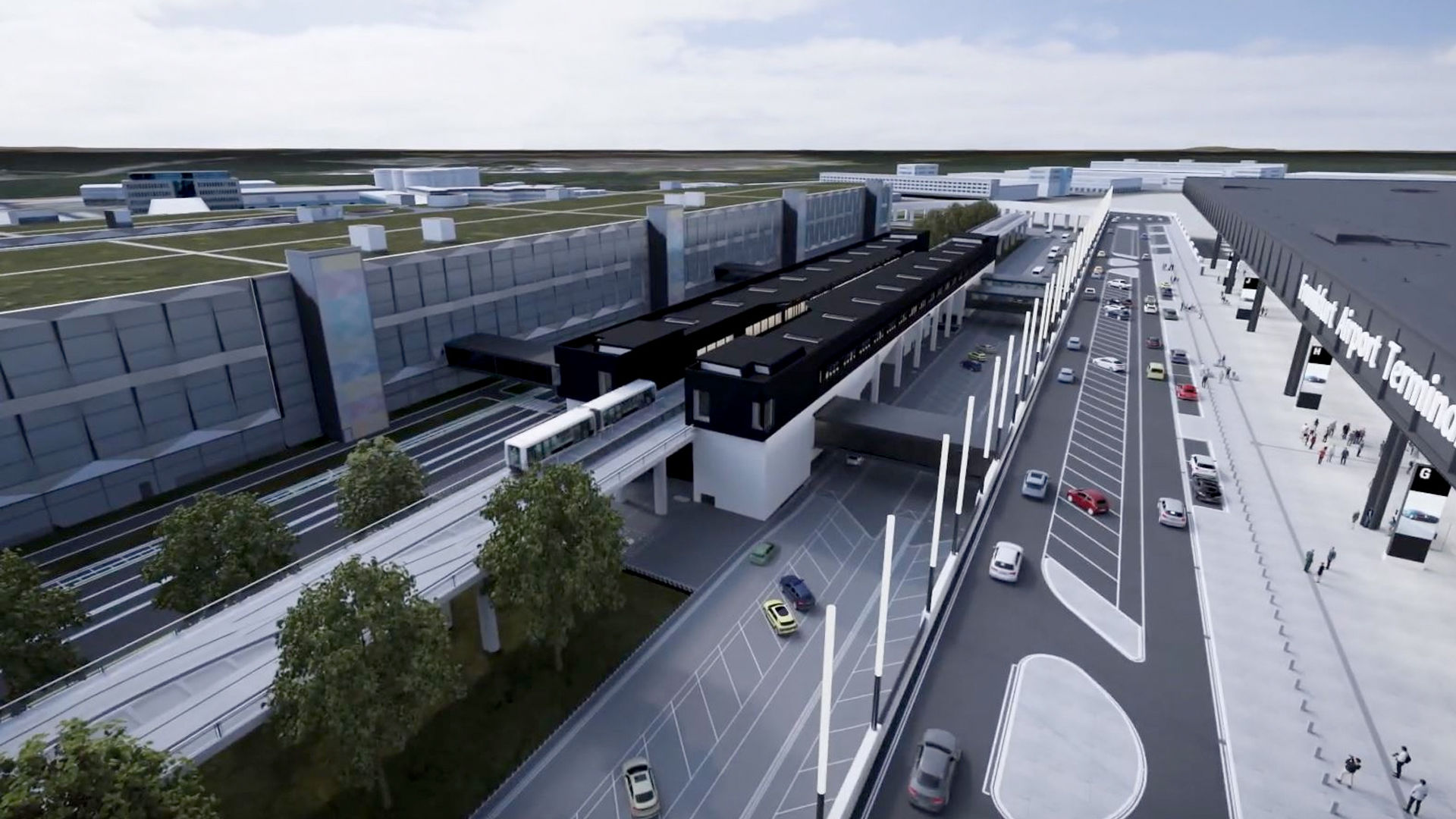 A Pleasant Place to Spend Time While in Transit
The concept submitted by the London-based architects Foster and Partners was named winner of the architectural competition and formed the basis of the competition for the realization of Terminal 3. © Foster & Partners "Today, airports have become destinations in themselves. And most of them receive more visitors than many downtown areas. This makes it even more essential for airports to perform many of the same functions as cities. Which is exactly what we are going to accomplish with Terminal 3." (Christoph Mäckler, architect of Terminal 3)
Modern but with a feel-good ambiance: it was with this promise that Frankfurt architect Christoph Mäckler convinced the jury and won the contest held to choose who would design the new Terminal 3. Previously, the London architectural firm Foster and Partners had won the first round, the architectural competition, and designed the basic shape of the modular terminal. In Mäckler's architectural vision, piers, gates and lounges are reminiscent of a city's streets and squares.
His idea is to go beyond merely building a transit zone and create an urban environment in which people enjoy working, shopping, eating, relaxing and, of course, boarding planes to distant destinations. Light-flooded spaces in warm natural hues evoke a pleasant atmosphere that invites travelers to settle in and stay a while. "This will clearly set Frankfurt Airport apart from other international airports," says Mäckler. "It will be the world's first terminal in which people can truly feel good."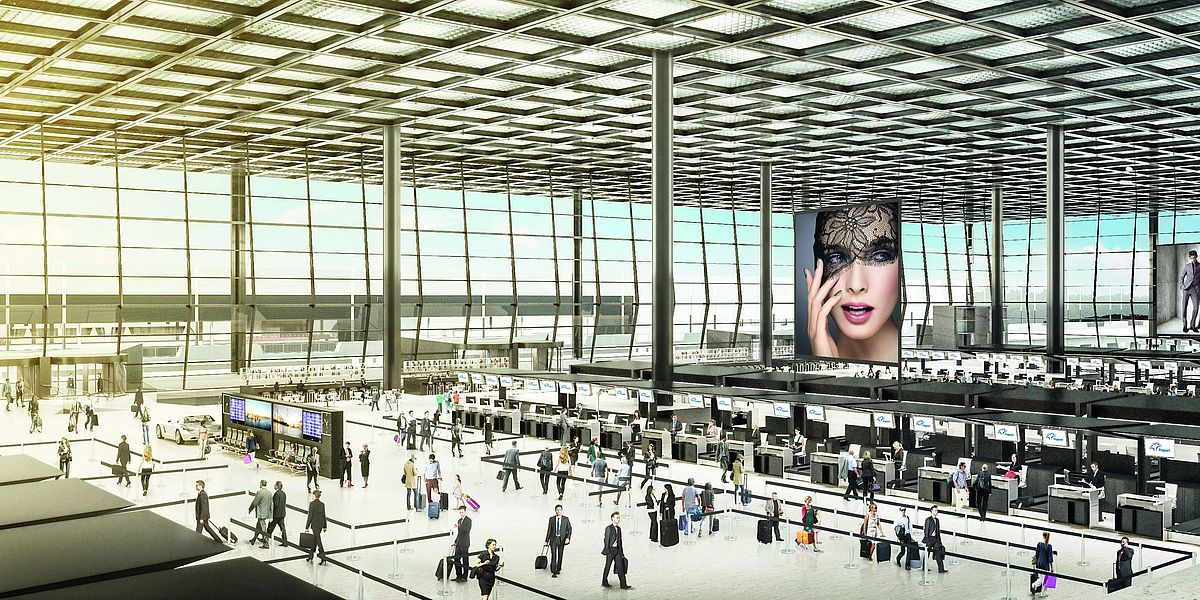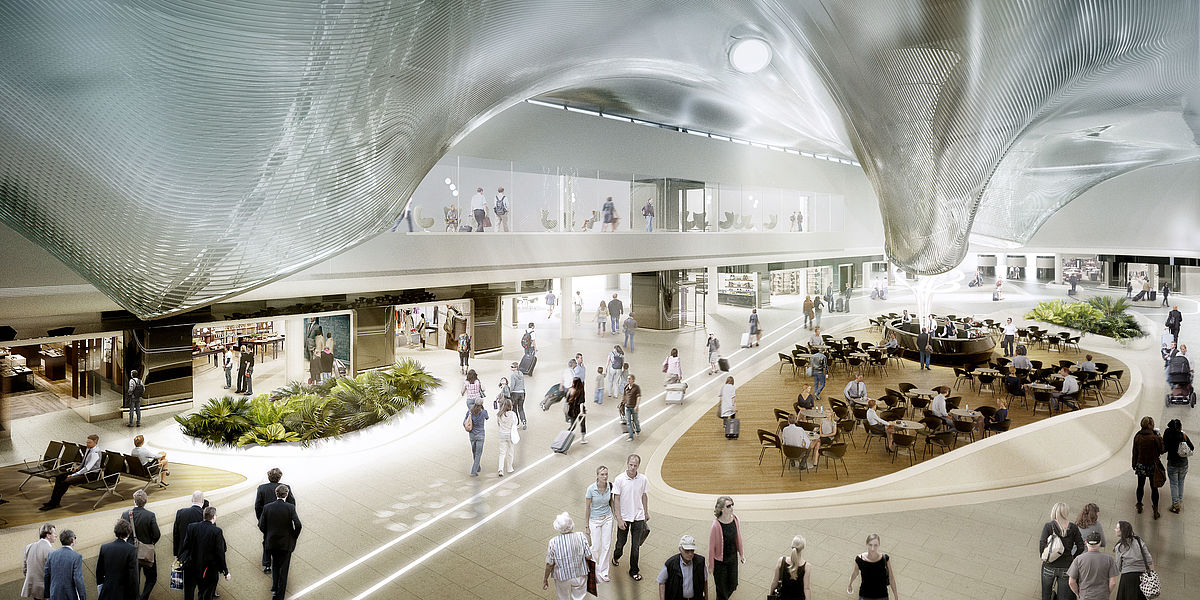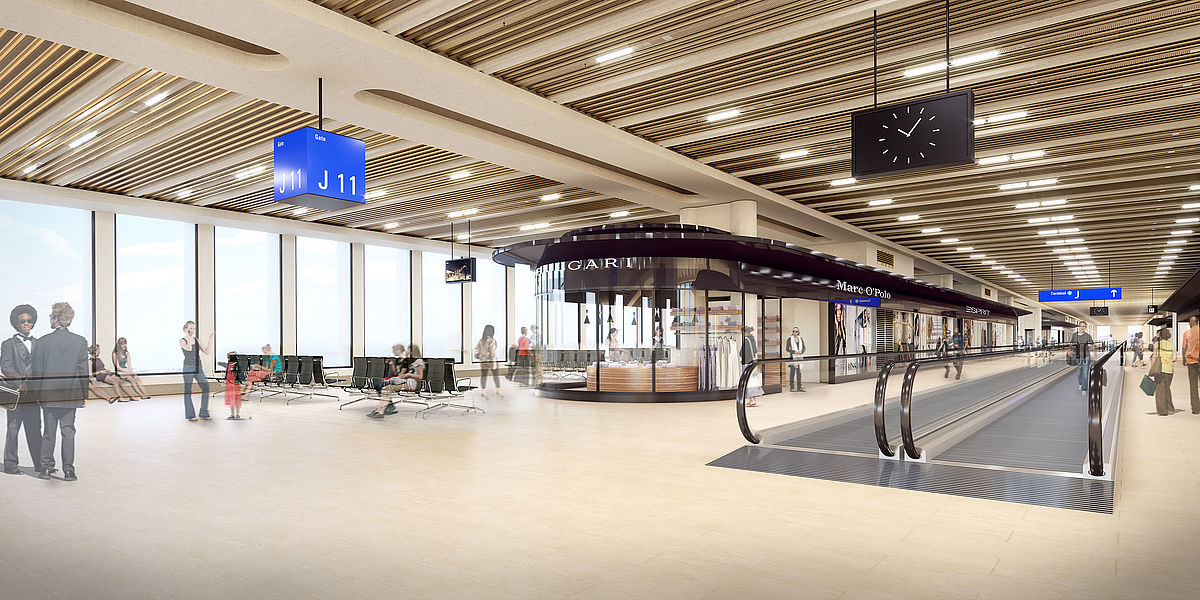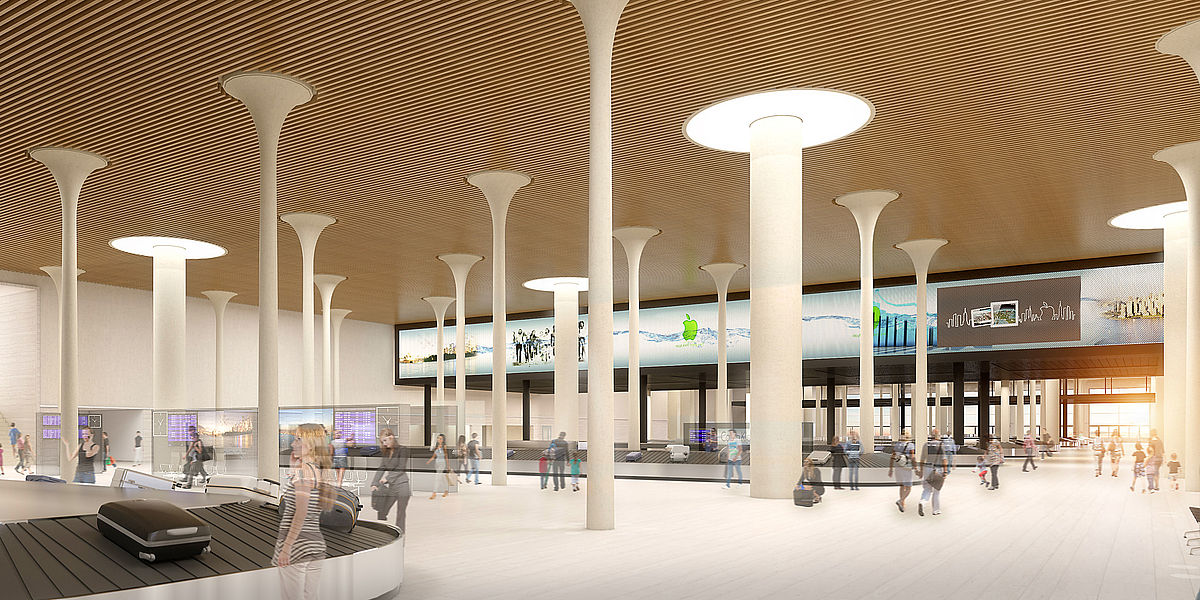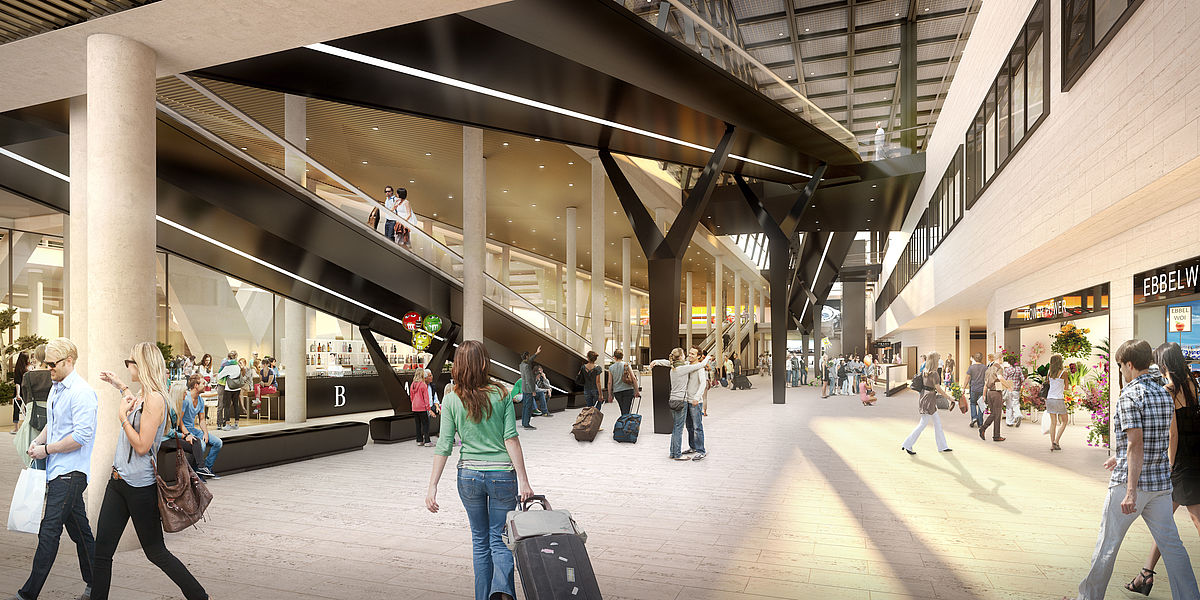 In other words, not only passengers: airport employees will also enjoy pleasant working conditions. Among other things, there will be as little artificial lighting as possible. Instead, floor-to-ceiling glass panes will admit natural daylight into voluminous halls, rooms and other areas. Cables and pipes will blend smoothly into the architecture to avoid disrupting its esthetics and expansiveness. This attention to detail will doubtless also please visitors and shoppers. The marketplace in the middle of the new terminal will occupy around 3,000 square meters and be filled with boutiques and shops, as well as food outlets serving a wide range of cuisine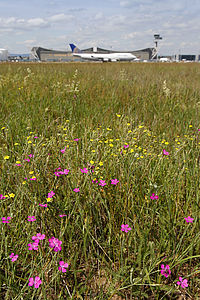 Sustainable for the future
The idea of sustainability already played a major role in the planning for Terminal 3. The new terminal also supports Fraport AG's climate protection goals. This includes, for example, reducing the CO2 emissions of its own activities at Frankfurt Airport to 80,000 tons per year by 2030. This is 65 percent less than in 1990.
Terminal 3 will also contribute to this after its completion: The entire building is very energy-efficient. Although it increases the capacity of the airport by 35 percent, the energy requirement for operating the terminal and the additional infrastructure only increases by 13 percent. The building is comprehensively thermally insulated and triple-glazed. Intelligent heat and cold management protects energy requirements and ensures a pleasant temperature inside the terminal. An efficient source air system ensures fresh air from check-in to the gates. Terminal 3 will also use a comprehensive double pipe system for the sustainable reuse of water. For this purpose, a rainwater retention basin with an associated treatment plant will be constructed. The roof water of the new terminal can be discharged into this retention basin and treated to produce service water. The treated water covers the new terminal's entire industrial water requirements for more than three days - from toilet flushing to plant irrigation.
A Smart Terminal for Less Stress
A new people mover will let travelers get between Terminals 1 and 3 in just eight minutes. You can learn more about it here! Today's airports are complex transportation nodes that are integrated into a global network and used by millions of people. It is therefore essential to create a terminal building that accommodates and adapts to the needs of those who enter it. Unexpected delays, for example, may make it necessary for travelers to spend more time here than planned. Terminal 3 is also designed to make it as easy and straightforward as possible for passengers to get to their flights.
A special challenge is posed by the relatively large distance from Terminal 3 to the other terminals and the regional and long-distance train stations in the north of the airport. They are located a couple of kilometers apart as the crow flies and separated by two runways, which makes the actual distance even greater. To nevertheless ensure that travelers can get to and from Terminal 3 as conveniently and fast as possible, a new people mover system similar to the existing Sky Line train is being built. From the region - for the region Since the ground-breaking ceremony in 2015, the new Terminal 3 in the south of Frankfurt has been under heavy construction. The complex construction project will not be carried out by a single general contractor. Fraport has bundled its own expertise in Fraport Ausbau Süd GmbH. The subsidiary is inviting tenders for the various construction projects in more than 500 individual contracts. The big advantage: Even medium-sized construction companies can participate in the award process either alone or together with other companies. To date, more than two thirds of the individual contracts already awarded have been awarded to small or medium-sized companies. This is particularly attractive for those who come from the Rhine-Main region: the small number of individual contracts awarded for this huge construction project gives them the chance to help build the future of their "neighbour" Frankfurt Airport.It will link the new terminal in the south of the airport with the two existing terminals and other transportation facilities in the north. The ride between Terminals 1 and 3 will take about eight minutes with a brief stop at Terminal 2. Its dual tracks will be nearly six kilometers long, running partly at ground level and partly raised, supported by columns. The system will have capacity to carry more than 4,000 travelers an hour between the airport's three terminals. An extended motorway interchange will also let those arriving by car conveniently drive straight to Terminal 3.
Step by step
What has been planned step by step over the years is slowly taking on more and more concrete forms. With the completion of Pier G in 2021, the first intermediate finish line is approaching. In 2023, according to current plans, the new Terminal 3 in the south of Frankfurt Airport offers capacity for 21 million travelers.
Have a look around!
Discover Terminal 3 via Virtual Reality! Enjoy a 360-degree view of the new terminal at Frankfurt Airport on your computer or your smartphone. By combining your smartphone with VR cardboard glasses you'll have an even more realistic three-dimensional experience. Give it a try!